PageFreezer is a SaaS solution that automatically archives websites, blogs, social media and enterprise social media networks to help organizations with their compliance and legal matters. Here are a few features that make PageFreezer a leading archiving solution.
Automatic Archiving
Archive websites, social media, and enterprise social media networks automatically and in real-time so no content is missed. PageFreezer quickly makes your archives accessible in the dashboard for browsing.
No Software Installation
PageFreezer is an online service. No software needed to install or configure. Set up your account and begin archiving your website within an hour.
Centralized Dashboard
Perform all your PageFreezer functions through a web-based dashboard purposefully designed to be user-friendly. The dashboard is home to all your web, blog and social media archives, and is the home base for performing a number of simple functions.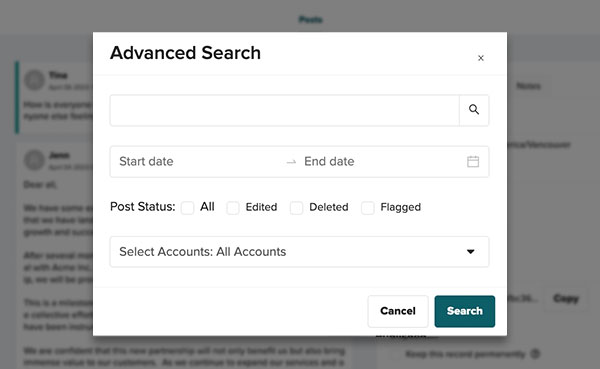 Advanced Search
Locate your archives easily when you need them. Either conduct a simple search using one keyword or conduct an advanced search using multiple keywords and filters.
Live Replay/Browsing of Archives
Easily browse your archives in the dashboard by date, type, and network. Sift through results displayed in the same look and feel as the original network, as existed on specific dates.
Track Changes & Deletions
Pinpoint exact changes and deleted messages in your archives. PageFreezer indicates all changes in the user interface even if they occurred immediately after posting. Text changes are highlighted in red (removed) and green (added).
Social Media Keyword Monitoring & Alerts
Monitor your social media channels and sign up for alerts. Customize a list of relevant keywords, text patterns, number patterns and regular expressions, and get notified by email when they are used on one or all of your social media accounts.
Data Exports
Share your archives with others by exporting custom reports of your archives in PDF, Excel, CSV or CSV straight from the PageFreezer dashboard. PageFreezer also offers WARC and JSON formats by request.
Digital Signatures
Prove data integrity and authenticity of your data with PageFreezer's SHA-256 bit strong digital signatures on each archived page or post. This technology adheres to the guidelines described in the FRCP and the FRE.
Timestamps
Prove your data was collected at a specific time. PageFreezer stamps each archived page with an RFC 3136 compliant Time Stamp Authority securely synchronized with the certified atomic clocks of a Stratum-1 Time Server. This timestamp cannot be altered without detection, providing true evidence of the time of capture.
Analytics Reporting
View detailed metrics for the accounts you archive and gather better insight into your online activity. Generate custom visual reports using keywords, date ranges, and filters that can be exported in PDF or spreadsheet format for sharing with others.
User, Group and Role Management
Use group, user, and role management features to set permissions, assign tasks, limit access, or flag and remove posts and comments as a team.
Long-Term Storage on World Class Data Centres
Store and protect your data long-term with PageFreezer's world-class SSAE16 SOC1 & SOC2 and ISO 27001 certified data centers.
Legal Holds & Case Management
Efficiently manage your archives according to your legal needs. Within every social media archive, or directly from search results, flag archives, select archives to add to a particular case, or directly put an archive on a legal hold.
Retention Schedules
Clean up your data easily by setting up your retention schedule in the PageFreezer dashboard and purging your data after that period of time.
Open Records Management (Governments)
Streamlines the management of open records requests. With the option of organizing archives into cases, you can collect, export and share cases with third parties or other government integrations like GovQA.
Public Portal (Governments)
Make your website and social media archives searchable by external government communities through PageFreezer's customizable public portals.