Enterprise Collaboration Network Archiving
Internal social media conversations are official records. Reduce the compliance and legal risks of your internal communications with enterprise collaboration network archiving.
Enterprise social networks and work collaboration tools should be monitored and archived for recordkeeping purposes. Pagefreezer lets you monitor, capture, and preserve all conversations in real-time.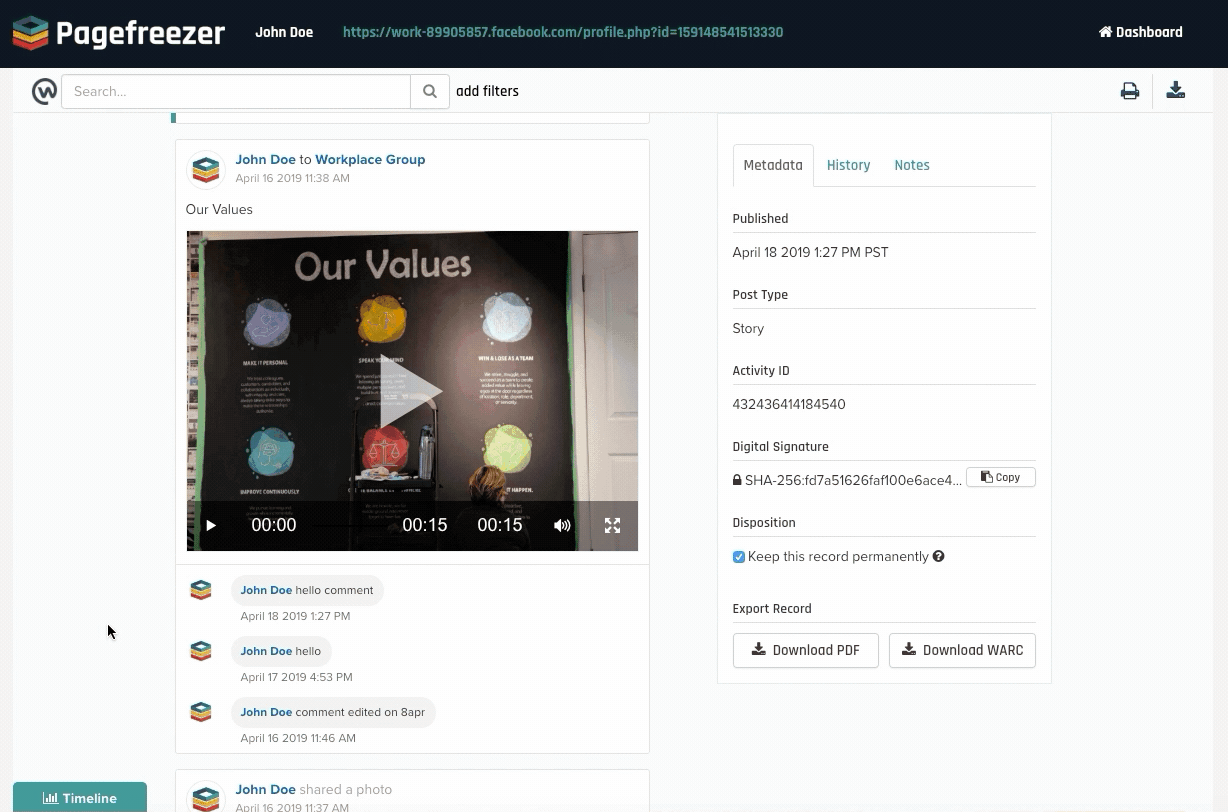 Real-Time Enterprise Collaboration Archiving
Access a comprehensive record of all enterprise collaboration activity within your organization. Even if a piece of shared content is removed or a message is edited/deleted, you can rest assured that your Pagefreezer enterprise collaboration archive offers a complete record of all of it. 
Log into your Pagefreezer dashboard to see a record of all your social media activity, even if it's no longer available on the original platform — see versions of edited comments, deleted data, and private messages between employees.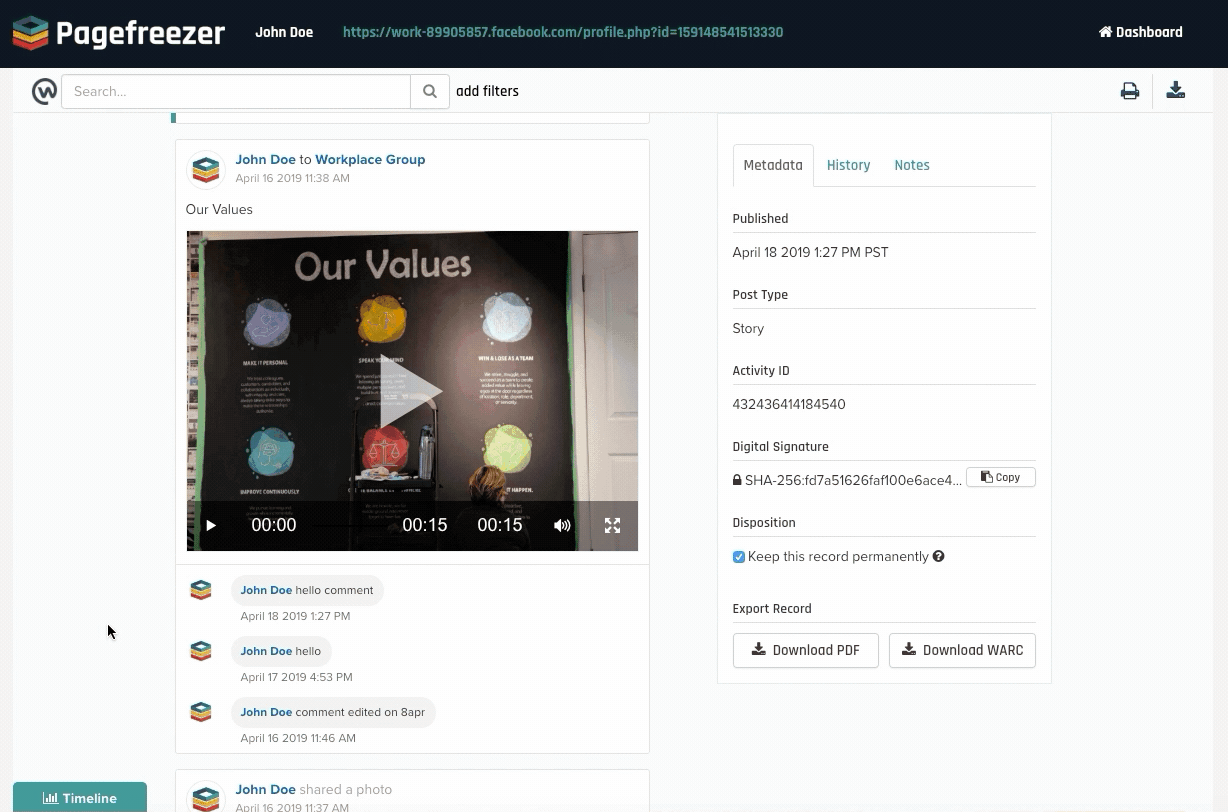 Keyword Monitoring and Policy Alerts
Pagefreezer's extended text pattern monitoring makes it easy for customers to monitor social media platforms and receive alerts when inappropriate or sensitive information is shared. Instead of entering multiple flagged words, users can select pre-canned text patterns that instantly adds large sets of words. Our extended libraries include offensive language and phrases related to public safety, as well as common sensitive information such as passport, healthcare, and banking numbers.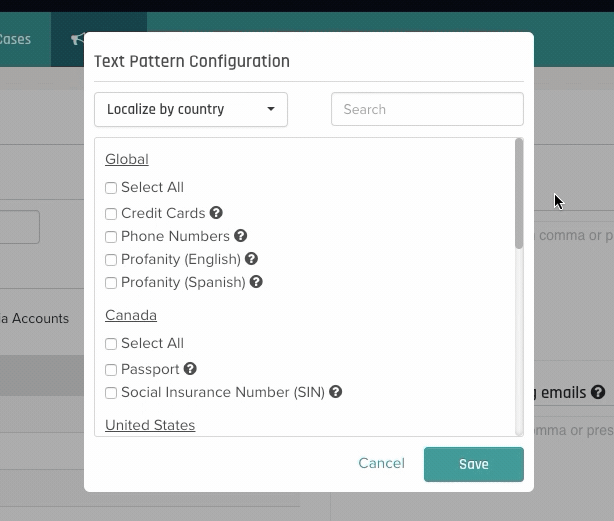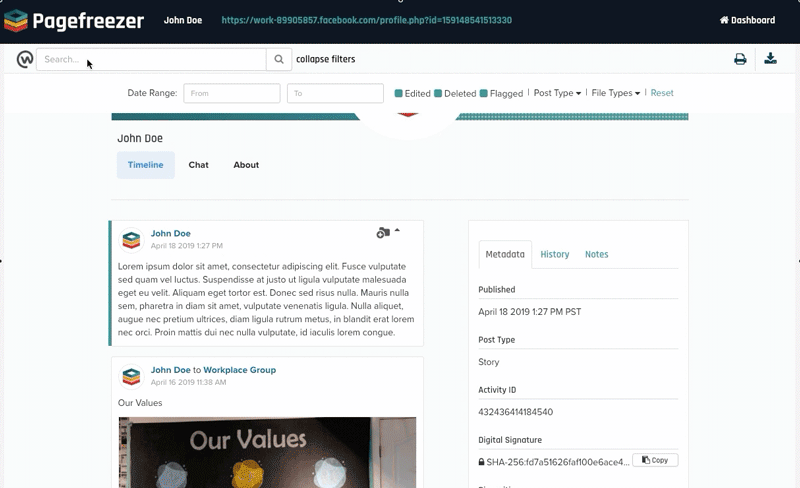 Advanced Enterprise Collaboration Search
With thousands of employees interacting on enterprise collaboration platforms every day, large enterprises can struggle to find a particular piece of content or message amidst millions of records. Pagefreezer's powerful search functions allow you to find relevant data across all channels and private messages. Simply enter the name, word, or phrase in the search bar and see all references within the platform to that term.     
You can also narrow your search by filtering for specific social media platforms, accounts, dates, and more. Even if you have dozens of active social media accounts, you can easily narrow your search and identify the particular post or comment you need to view.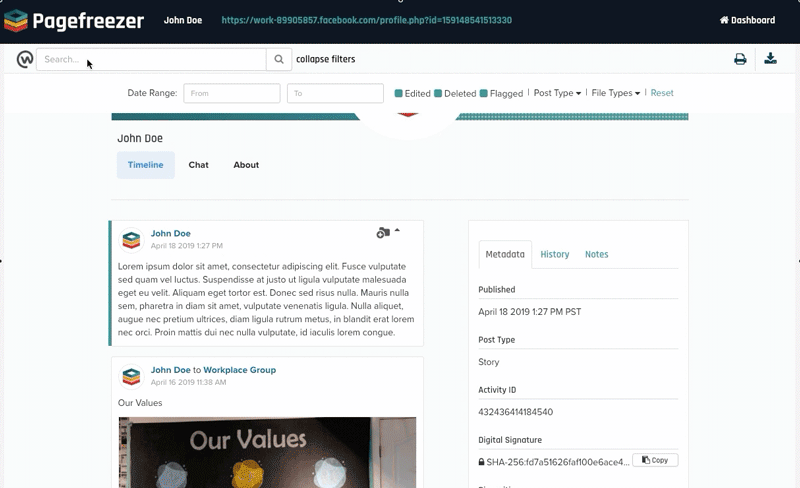 Defensible Records & Legal Hold
Enterprise collaboration records are worthless for compliance audits and litigation unless evidence of integrity and authenticity can be provided. Pagefreezer offers trusted, non-refutable evidence, complete with metadata. Records are timestamped with an ANSI X9.95 compliant Time Stamp Authority that's securely synchronized with Stratum-1 Time Server certified atomic clocks, and signed with a SHA-256 digital signature. 
When dealing with a legal claim or audit that requires a copy of enterprise collaboration content, you can export data to file formats such as PDF and WARC. 
Pagefreezer allows you to place users and data on legal hold to prevent the deletion of crucial enterprise collaboration content. You can also set data retention schedules that align with the existing policies of your organization.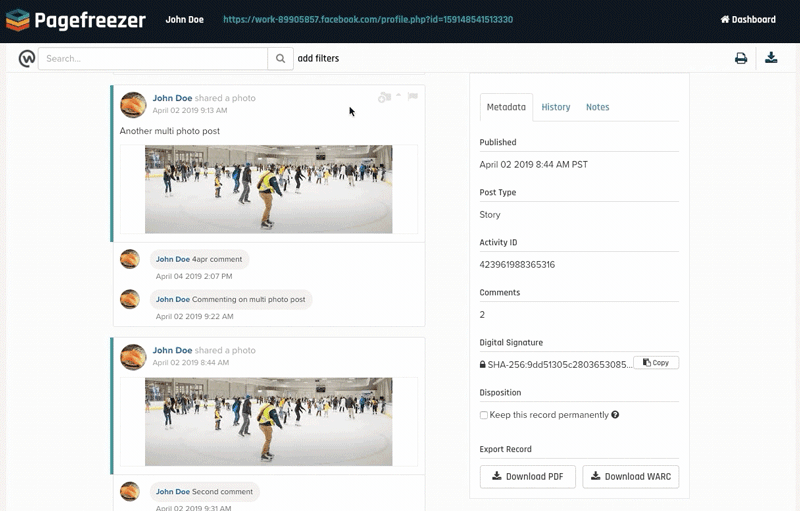 Case Study: Risk Management of Enterprise Collaboration Data at Scale
See how Pagefreezer assisted a leading financial institution with the secure enterprise collaboration archiving of data for 80,000 employees.
Learn About Our Other Products

Website Archiving
Archive your website and see chronological versions of all edited web pages. Easily compare different versions and export data in defensible formats.

Social Media Monitoring & Archiving
Monitor social media accounts to prevent inappropriate behavior and curb data loss. Capture and preserve all social media activity in a defensible format.

Mobile Text Message Archiving
Archive all mobile text messages on employee devices. Solutions are available for both employer-issued phones and BYOD scenarios.
White Paper: The Rise of Enterprise Collaboration Networks
Businesses have capitalized on the benefits of social media as a flexible communications method in advertising, branding and customer service. But what are the information governance implications of these popular platforms?
Pagefreezer Helps Organizations With the Following:

Financial Industry Compliance

eDiscovery and Litigation Readiness

Monitoring and
Data Loss Prevention

FOIA/Open Records Responses


Retention Scheduling and Legal Hold


Information Governance of Online Data
See How Pagefreezer Assists Specific Industries
Start Archiving Your Enterprise Collaboration Platform
Get in touch with us to learn more and see Pagefreezer's enterprise collaboration network archiving in action. 
Head Office:
#500-311 Water Street
Vancouver, BC V6B 1B8
Canada
US Office:
#1400-506 2nd Avenue
Seattle, Washington, 98104
United States
Europe Office:
Laurenspark 6
4835 GX Breda
The Netherlands
UK Office:
+44 (0)20 3314 7921
Australia Office:
+61 (07) 3186 2199
© 2019 Pagefreezer Software Inc. All Rights Reserved. Privacy Policy.
Commercial use and distribution of the contents of this website is not allowed without express and prior written consent of Pagefreezer Software Inc. subject to existing copyright exceptions and limitations.